No matter your skin type, even for the most sensitive, ATOPALM Stretch Mark Cream can help both improve skin's appearance and calm down stretch marks.
(PRUnderground) January 20th, 2022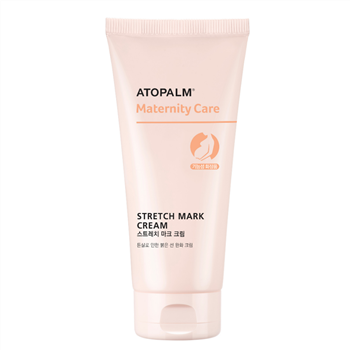 Stretch marks can develop in skin for a number of reasons and sensitive skin types need help too. ATOPALM, K-Beauty's leading skincare brand dedicated to developing and marketing innovative, affordable and clinical-level skincare at home for dry, sensitive skin with patented Maltese Formula has added Stretch Mark Cream to its signature MLE skincare line.
"Whether the stretch marks are caused by pregnancy, weight loss or growth spurts, this lightweight, non-greasy cream is formulated specifically to help calm down stretch marks," explained Dr. Raymond Park, CEO and developer of ATOPALM. "We understand that people with sensitive skin types can need care for stretch marks and so our formula is mild and safe enough for all ages and can also help improve the appearance of red lines," he added.
ATOPALM Stretch Mark Cream is formulated with MLE and Ceramide-9S ™ which are similar to the skin's natural lipids. The MLE skin barrier formula incorporates itself seamlessly into the skin's existing barrier structure, essentially "tricking" the compromised skin barrier into making the strong, healthy structure a natural part of itself. This process helps to restore skin's natural hydration and smoother appearance. ATOPALM. The intensive dose of ceramides also can help to relieve the itching caused by the stretched, dry skin.
In addition to the patented MLE and Ceramide-9s™, dermatologist-tested ATOPALM Stretch Mark Cream contains an additional potent blend of natural oils such Silver Ear Mushroom Collage and Jojoba Oil to help relieve itching, Meadow Foam Seed Oil, Rape Oil and Macadamia Seed Oil to nourish skin and promote suppleness and hydration to relieve tightness.
This product is free from the 10 ingredients known to be harmful to the skin: Artificial Pigments, Parabens, Artificial Fragrances, Ethanol, Mineral Oil, Phenoxyethanol, Benzophenone, PG, PEG, and Diathanolamine.
More information and a complete ingredients list can be found on the product's Dermartology.com webpage.
About Dr. Raymond Laboratories, Inc
Dr. Raymond Park has researched in skin barrier Science has helped many people who have suffered from skin barrier dysfunction. Dr. Raymond Labs has invented platform Skin Barrier Technology, named as Crystal Lamella MES (Micro-Encapsulation System) and have published more than fifty articles covering dermatological research. www.dermartology.com is the official site to introduce innovative skin barrier products.
The post ATOPALM Stretch Mark Cream Helps Fade Stretch Marks For Sensitive Skin Types first appeared on PRUnderground.
Original Press Release.